The Marching Band Staff
The marching band is led by gifted leaders and musicians who are concerned not only with the musical skills of each band member, but with how they develop as people; their character and heart.
Director
Mr. Peter Guenther is in his sixteenth year as Director of Bands at Owatonna High School. Previous to this position he was the director of junior and senior high bands at Lake City High School from 1993 to 2001. At Owatonna High School,Mr. Guenther conducts three concert bands, the marching band, and jazz ensemble.
He holds degrees from the University of Wisconsin-Eau Claire and Winona State University.
In 2010, he was honored by his colleagues as Owatonna Teacher of the Year.
In December of 2013, he co-presented a session on electroacoustic music at the Midwest International Band and Orchestra Clinic in Chicago, Illinois. He has participated in collaborative efforts with numerous colleges in the midwest, as well as with composers John Zdechlik, J. Robert Hanson, Daniel Kallman, Samuel R. Hazo, Johan de Meij, Steven Bryant, and Alex Shapiro.
He is currently a member of the National Association for Music Education (NAfME), the National Band Association, the Minnesota Music Educators Association, the Minnesota Band Directors Association, and Phi Beta Mu International Bandmasters Fraternity.
Mr. Guenther currently conducts the Owatonna Community Band and Owatonna Symphony Orchestra. In 2013, the community of Owatonna honored him as the recipient of the Owatonna Community Arts Award. He is active as an adjudicator, clinician, and guest conductor in the state of Minnesota. Mr. Guenther enjoys golfing, running, camping, fishing and spending quality time with his wife Holly and their five children, Carly, Ryan, Brandon, Max and Evan.
Mr. Guenther loves music, teaching kids, and making a difference. He says, "The Owatonna High School Marching Band is always a journey, full of challenge, success, and personal growth for myself, our staff and our students. We never stop learning, and we always take great pride in our team."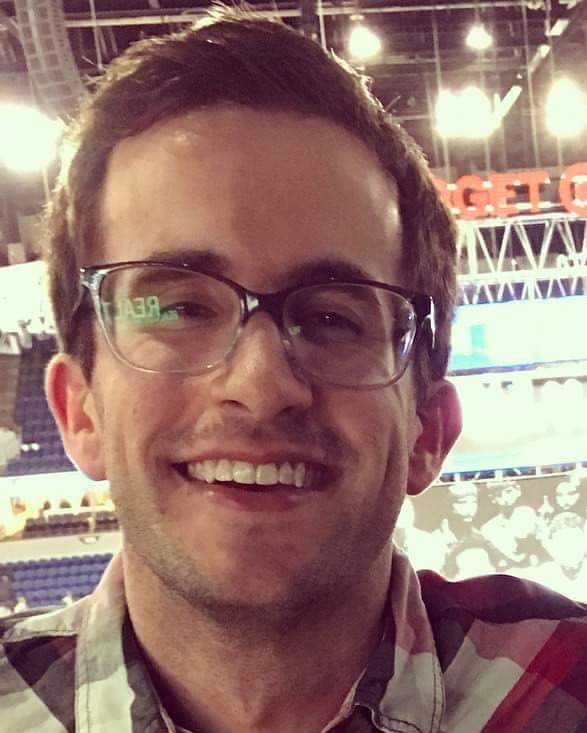 Assistant Band Director
Ethan is a 5th and 6th grade band and orchestra teacher in Austin MN. Prior to moving to southern Minnesota, Ethan lived in the cities for two years where he taught music in a metro area charter school. In 2014, Ethan graduated from Kutztown University of Pennsylvania, his home state. As a trumpet player, Ethan currently plays with the Southern Minnesota Real Big band, and the Austin Symphony.
In the world of marching arts, Ethan has marched with the 2012 Bluecoats and the 2007 Glassmen drum and bugle corps. He also marched with his college marching band, the Kutztown University Marching Unit.
This is Ethans second year working with the Owatonna Marching Band. This past winter, Ethan also helped with the visual design for Owatonna's first winter percussion ensemble. As a marching band instructor, Ethan previously worked as a brass/visual instructor with the 728 Cadets, and when he lived in Pennsylvania, the Dieruff High School Marching Band, and the Kutztown University Marching Unit.
As a music educator, Ethan's main goal is to help students become great people through music. He aims to build positive, respectful, and collaborative atmospheres in the groups he works with.
Outside of the world of music and marching, Ethan enjoys biking and cheering for the Baltimore Orioles. Go O's!
Ethan lives in Owatonna with his wife Amy who is also a band director in the area.
Woodwinds
Brandon is a current student attending Gustavus Adolphus College, in St. Peter, MN, for a B.A. in Instrumental Music Education. His major is on clarinet, but also has a strong background on saxophone. Under the direction and teaching of Dr. James Patrick Miller and Dr. Karrin Meffert-Nelson, he plays for the Gustavus Wind Orchestra and has future plans in studying Jazz and Orchestra at college.
Brandon is also an Owatonna High School alumni of the class of 2018. While in Owatonna, he enjoyed participating in Jazz, Orchestra, choir, pep band, and concert band; furthermore, Brandon marched with the band for 6 years.
Having had the opportunity to direct and student teach alongside Tony Boldt, the band director of Kasson-Mantorville High School, Brandon has been inspired to work with high schoolers for the future.
Outside of the band, he enjoys running, playing soccer, and cherishing every moment with his family -- especially his two new nieces "Margo" and "Ella".
The energy of the band program and the students that participate in Owatonna makes teaching thrilling and exciting!
A quote to life Brandon lives by and strives to teach others is "Every worthwhile accomplishment, big or little, has its stages of drudgery and triumph: a beginning, a struggle, and a victory" -- Mahatma Ghandi
Marching band is like this quote. There is a lot of work that goes into it. There will be times of loss, but there are always moments of victory.
Brass
Nicholas Liebl is an OHS Marching Band alum, and attends the University of Arkansas – Fayetteville, where is working towards Masters of Music Degree in Tuba Performance with internationally recognized virtuoso euphonium and tuba artist, Dr. Benjamin Pierce.
As a Graduate Assistant, he teaches tuba and euphonium lessons, as well as music history courses. In the Fall of 2018, he will be the interim instructor of tuba at the University of Arkansas and will work with the Razorback Marching Band as an assistant. He received his undergraduate degree from the University of Wisconsin – Eau Claire. In Wisconsin was the principal tuba player of the Chippewa Valley Symphony Orchestra and performed with BASSically BRASS as well as the Clearwater Brass Quintet.
He won third prize in the Glenn Miller Society Solo Competition in 2013 and in 2016 he won the UWEC Symphony Band Concerto Competition and performed the Roland Szentpali Tuba Concerto. Liebl spent the spring semester of 2015 at the University of North Texas, where he had the privilege of studying with Mr. Don Little.
After initially studying with late Dr. Jeffery Hodapp, formerly of Emporia, Kansas, and Dr. Paul Niemisto in high school, his undergraduate studies have been with Dr. Jerry Young at the University of Wisconsin – Eau Claire. He has had additional studies with Minnesota Orchestra principal tuba player, Steve Campbell. He won a position with the United States Navy Band Program in the fall of 2017, performs with the graduate tuba – euphonium CRIXUS and performed with the Arkansas BrassWorks BrassBand in their second-place performance at the Dublin City Brass Band Festival in Ohio, as Solo Eb bass.
He is a proud member of ITEA, the International Tuba and Euphonium Association, and has contributed and collaborated in numerous articles published by the ITEA Journal.
The best steel is forged from the hottest fire, let's light this season up!
Color Guard
Maddie is a current student at Minnesota State University, Mankato working towards a Bachelor's degree in English Literature with the hope of one day become an editor.
Maddie started participating in Winterguard in 8th grade year with the Osseo Winter Guard and immediately became hooked. Since then she has marched with her high school marching band, the Maple Grove Marching Crimson, the Synergy Winterguard, MBI Winterguard, and is currently marching with the Mankato Mav Machine Marching Band.
Maddie loves learning new skills on each piece of equipment and being able to perform and entertain. She is excited to teach others about her passion.
Percussion
Randy has been with the Owatonna Marching Band program since 2012, as a percussion instructor and caption head. He also has worked with the Waseca Marching Jays since 2007, and two seasons with the Waseca Indoor Winter Drumline.
Randy also has a private lesson program for the Owatonna and Waseca area, focusing on rudimental percussion, and technique. Prior to instructing, Randy marched with the Waseca Marching Jays for 3 years, and Chops percussion for 3 seasons, under the direction of Richard "Butch" Dufault, and Michael P. Mayer.
Randy is an alumni of Waseca High School, and Minnesota State University, Mankato, with a Bachelor of Science in Construction Management and Business Administration. He and his wife have 4 children, and live in Waseca, MN, and Randy is a Residential Architect.
In his free time, he enjoys golf, wilderness camping, alpine skiing, fishing, hunting, traveling, playing guitar and piano, and definitely spending time with his own kids; watching all of their sports and activities, including football, hockey, wrestling, track and field, baseball, gymnastics, cheerleading, and of course, music.
Randy's teaching philosophy and focus is building relationships, promoting self confidence and self responsibility, setting and achieving goals, and rewarding effort, attitude, and skill.
Percussion
Lee Sackett joined the Owatonna Marching band program in 2017 as a percussion and front line instructor when his oldest daughter joined the band as one of the banner carriers in the front line. He also has been known to occasionally pull the band trailer to and from parades with his big blue Ford F-650 pickup.
Lee has been teaching private percussion lessons since 1993. His goal is to develop well rounded percussionists who can play in all settings including band, orchestra, marching band, jazz ensembles, church groups, etc. He is currently the section leader and a board member of the Bloomington Medalist Concert Band, "one of the foremost community bands in the nation". He also plays guitar, drums, and sings with the praise team at church. He has also performed recently with the Kenwood (Minneapolis) Symphony Orchestra, Owatonna Community Orchestra, Owatonna Community Band, and the Austin Big Band.
Lee graduated from Bloomington Jefferson High School where he participated in the concert bands, marching band, hockey pep band, and the show choir band. He also had a successful rock band in high school. Lee earned his Bachelor of Science degree in Industrial Engineering from the University of Minnesota-Duluth. While working on his Major, he also earned a minor in music. Lee performed with the UMD Wind Ensemble, Jazz Big Band, Jazz Combo, Jazz Choir, Guitar Ensemble, and Percussion Ensemble. He also taught private percussion lessons and performed in the Duluth area with the Twin Ports Wind Ensemble and several other groups/organizations.
Lee and his wife, Shannon, have three daughters who all share Lee's love of music. They also share a love for the outdoors, science, and…antique tractors! In 2002, Lee started Lee J. Sackett, Inc., a premiere antique tractor and vehicle restoration company that now boasts 20 employees, shops in Minnesota and Iowa, and customers from all over the USA. In the summer when the Sackett family isn't doing something musical, you might find them "playing" with antique machinery.
Color Guard and Visual Designer
"Educating and engaging students and instructors in the marching arts activity is a passion I have had for many years. I feel sharing knowledge and ideas is paramount to the survival of this activity and I strive to be as helpful as I can." - Gary Swanson

Gary has been involved in the marching arts for over 35 years. His credits include color guard instruction and visual design at the scholastic level with many groups over the years, his longest running affiliation being with the Irondale High School Marching Band and Color Guards in MN.
He has been Color Guard Director and Visual Designer since 1990.
Gary has led the Irondale program to many local and national awards including 26 State Winter Guard Championships and WGI Scholastic Open Class World Champions in 2002. Gary has instructed and designed for the Blue Stars Drum and Bugle Corps and Minnesota Brass, Inc. Drum and Bugle Corps. Helping the Blue Star move back into World Class and leading MBI to a national championship in 2011 are just a few of his accomplishments with these groups.
He is the Past President of the North Star Color Guard Circuit and currently is the Director of Education. Gary is involved in adjudication, consulting, and special event choreography both locally and nationally for the pageantry arts. Gary has a BS in Apparel Design from the University of Minnesota and works at Irondale High School as well as continuing his freelance design work. He resides in Minneapolis, MN